Mar 23, 2020 07:57 AM Central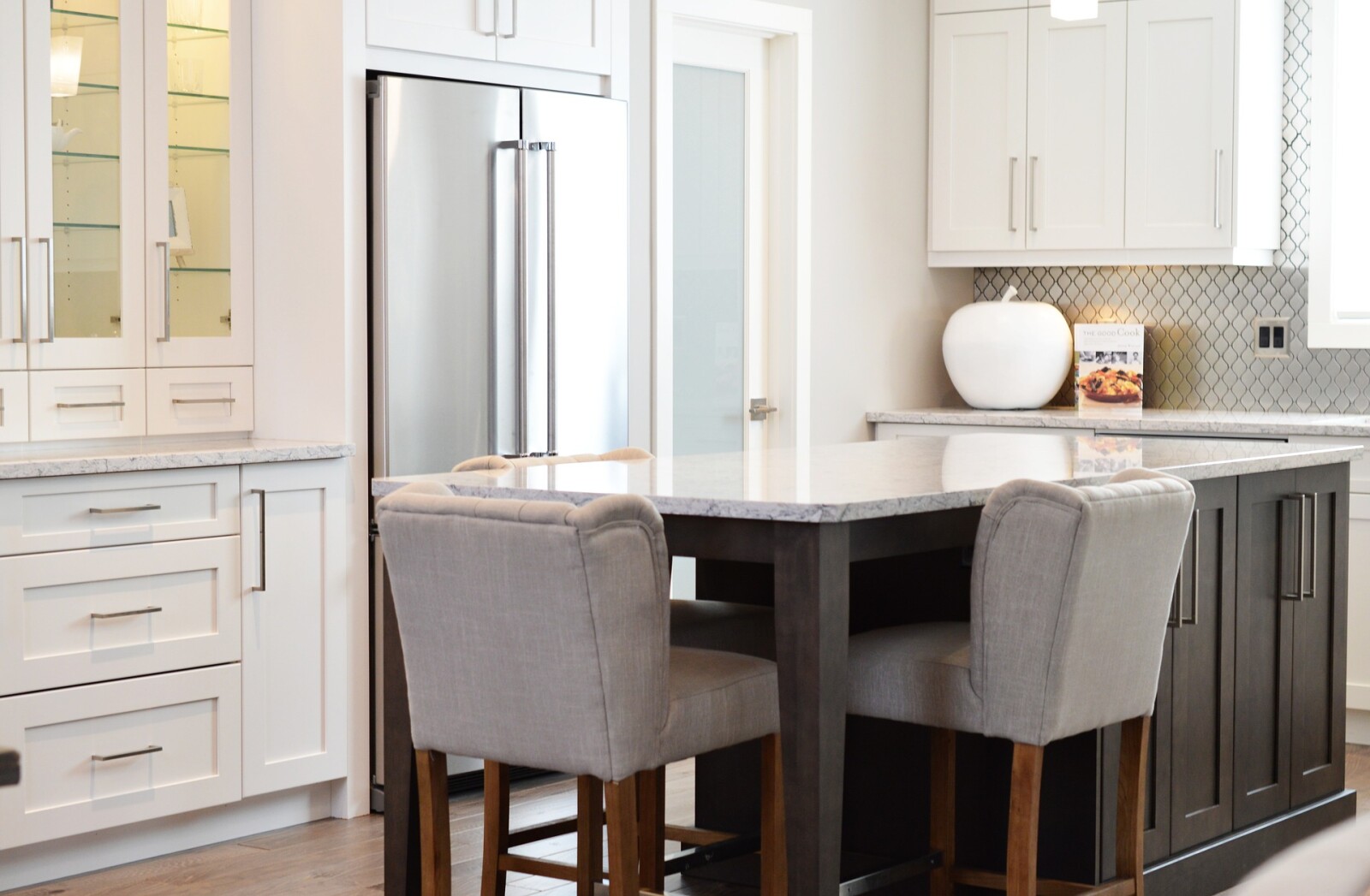 We are going to spring clean, declutter and organize our kitchen!!
Kitchens are tough to manage. Everyone uses this room, it is used for multiple functions and it often becomes the drop-off point for all the stuff! It is definitely one of the more difficult places in the home to keep clean, organized, and uncluttered.
But it is totally worth it…
There is something very calming and refreshing about a clean, organized and uncluttered kitchen. We spend so much of our time in the kitchen it can actually set the tone for our entire home. Having everything in its proper place makes prepping, cooking and even cleaning easier and more fun.
When you think about your own kitchen, what kinds of clutter come to mind? If it is anything but joy, read on…
Step 1: Start by thinking about what your kitchen goals are!
Is it to enable you to cook yummy, healthy meals for your family without too much fuss? Is it to be easy to keep clean so it offers you a sense of peace and doesn't waste your time? Is it to serve as a comfortable space for family or friends to spend time?
Your goals help you decide what to keep and where to put it, or what to let go. Creating a space that truly serves you will bring you more freedom and joy in the kitchen. Your kitchen should work for you, not the other way round.
Step 2: Remove anything that doesn't belong in the kitchen
Kitchens are a dumping ground for everyone and all kinds of stuff! Get a basket or a box and put everything in that doesn't belong in the kitchen. Then either put it away or give it to another family member to do.
WARNING: Grab a Ningxia Nitro or diffuse some Motivation Essential Oil before moving on the next step!!
Step 3: Pull it all out!
Yes, you read that right! We are going to "Kondo" our kitchens! There are no short cuts here! We are overhauling our kitchen!! Empty the cabinets, empty the drawers (the only exception is not to empty the fridge right now- but you can take everything off of it!!)
You are going to want to have a box or basket for all the items you are going to sell or donate, and a big trash bag on hand too! Discard or donate all the things are duplicates, not used or broken will not be returning. Throw away anything expired, forgotten or stale.
Be ruthless. Most kitchens are short on storage space, so the goal is to only have things you love and use.
Mark Bittman, a professional chef, stocked
an entire kitchen
for about $300, he summarized his kitchen utensil philosophy this way: "It needs only to be functional, not prestigious, lavish or expensive."
Don't forget under the kitchen sink! Do you a dozen half-used bottles of cleaners? Check out this short video.
Step 4: Wipe it all down
This is the spring cleaning portion! Grab your Thieves cleaner. Spray all the walls, drawers, cabinets, shelves, counters… you name it! Spay it and clean it!
Step 5: Break Time
Get a glass of water and think about your kitchen goals again.
Don't like to drink water? Tired of drinking water? Read this!
How do you want your kitchen to look when you walk in first thing in the morning to drink your Ningxia? How do you want to feel?
What do you want to see when you open your pantry? Cabinets? Drawers?
Got that happy, clean, organized image in your head? Great, let's get back to it!
Step 6: Go through your items AGAIN!
Yep- I know you are soft. You kept a lot of items because you hesitated, were unsure, thought you might need it someday!
The right question is not, Might I use this someday? The right question is, Do I need it. There are limited spaces for storage. Rather than shoving as much as you can inside these spaces, use their limitations as helpful guidelines on how much stuff to keep.
Did you really go through your pantry items?? Now might even be a great time to get rid of the unhealthy stuff and set goals to eat better?? But the bottom line is if it is expired, nobody likes it, or stale- throw it out!!!
Tip: Keep one set of lidded food containers that nest together and discard the others.
Step 7: Decide on an organizational plan
Think practically. Decide where each item should be stored. Cooking and baking pieces should be kept close to where you do food preparation. Utensils should be in the drawer nearest to the prep area as well. Glassware might be best near the sink or refrigerator. Sort all your baking items and pile them together. Sort your cooking items and pile them together. Group the dishes by every day or special occasion. Do you want a coffee or tea station that includes sugar, mugs, and filters?
Here are some tips as you plan out how to organize:
Tip #1: Store Containers and Lids Together
Tip #2: Make use of Vertical Space with hooks
Tip #3: Use Lazy Susans in deep cabinets
Tip #4: Use Drawer Dividers
Tip #5 Have a junk drawer for those random items
Step #8: Put it all away
You have decided how you want your kitchen to feel and look now let's create it! Don't be afraid to continue weeding out items that don't serve you as you put things away.
Tip: Arrange your pantry so you can see what you have— it means you won't constantly be buying the same thing at the supermarket.
Step #9: Clean Out the Refrigerator
Now go back and do the same process for what is IN your fridge. Please don't neglect this step or think I'll do it tomorrow and then not do it. That same feeling you want to get when you enter your kitchen in the morning is the same feeling you want to get when you open your fridge door!
Step #10: Take a picture and share what you have done!
I'd love to see what you have accomplished! Share it in the comments or go to our FB group Break Free & Live and share it there!! Our supportive community would love to see!
Love this info? You will love my guide "5 Ways Less is More" check it out here!
When your kitchen is clean, organized and decluttered, you have more time to make nutritious, delicious meals for your family and time to enjoy with your loved ones!!
02/17/2020 05:00 AM Central
Do you need to DECLUTTER??
Are you unsure where to start?
The only thing that may be more daunting than having clutter is the task of decluttering... am I right? Just like many other things in life getting started or making a plan is the hardest part.
Today I am going to walk you through creating your own personal decluttering checklist.
It is super simple, I promise.
Our goal is to create a list of every area in your home. Not each room, but every nook and cranny that needs to be decluttered, and yes that maybe our entire home. But it will be your entire home broken into bite-sized pieces!
Are you ready?
Grab a Ningxia Nitro or diffuse some Motivation Essential Oil and let's get started.
1.
Grab a spiral notebook (yes, a legal pad or binder with paper will work but for "working purposes" I prefer a spiral notebook.
2. Either on the cover of the notebook or the first page write YOUR WHY- your reason for decluttering your home. This may seem silly, but when you want to give up… this is where you go to remind yourself the task is worth completely no matter how long it takes.
3. Now- I want you to write the name of EVERY room in your house on the top of a separate page. For example…
Page 4- Downstairs Bathroom
Page 5- Upstairs Bathroom
STOP- Don't forget rooms/areas like the garage, sunroom, mudroom and shed if you have them. Also, be sure to assign all closets and entryways to a "room". I grouped my entryway and hall closet with my dining room because it is the closest room to those areas.
4. Now the fun starts… Go back to page one. Visit the room at the top of that page. I want to spend about 5 minutes in that room observing and recording all the "little areas" in the room that require attention. For example, if your first room is the living room your list might include Entertainment center, Coffee table, Bookshelf, End table, Pile of games in the corner, DVD cases (and pile), In and under the couch... You get the picture!
5. Now go and do this for every room. You don't have to do it all in one day. Maybe just tackle the downstairs today!
Once you have completed YOUR Personal Declutter Checklist you have a plan of action! This is a living document- meaning it will not be perfect the first time-LOL. You will add to it and edit over time.
BUT you will also get to cross areas off and that, my friends, is a great feeling!
📋Share YOUR checklist! Show us what you have done.
"If you fail to plan, you are planning to fail!" ~Benjamin Franklin
Love this info? You will love my guide "5 Ways Less is More" check it out here!