May 4, 2020 09:31 AM Central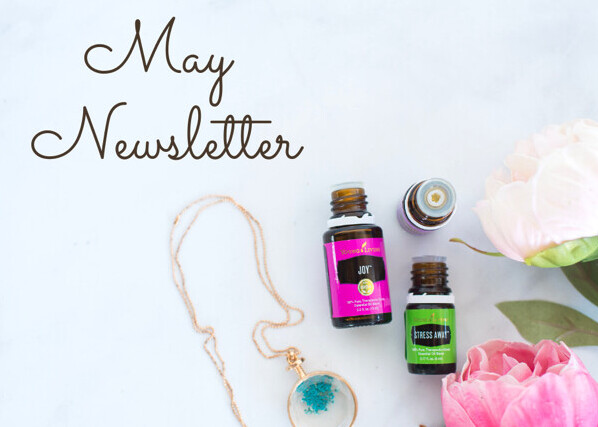 Happy May!
It's the last month of spring and it's filled with all kinds of wonderful things… starting off with Cinco de Mayo. I mean, who doesn't enjoy a good taco?! Grab some Lime Vitality and Cilantro Vitality and you'll be good to go.
We will also be celebrating Memorial Day to reflect upon all the sacrifices that were made to ensure our freedom. Rub on some Gratitude essential oil and speak those words of thankfulness.
And there's Mother's Day - so be sure to love on all the mother figures in your life. They deserve it! I've included a recipe down below to help you out. But don't stop there... keep scrolling to check out the Mother's day sale!!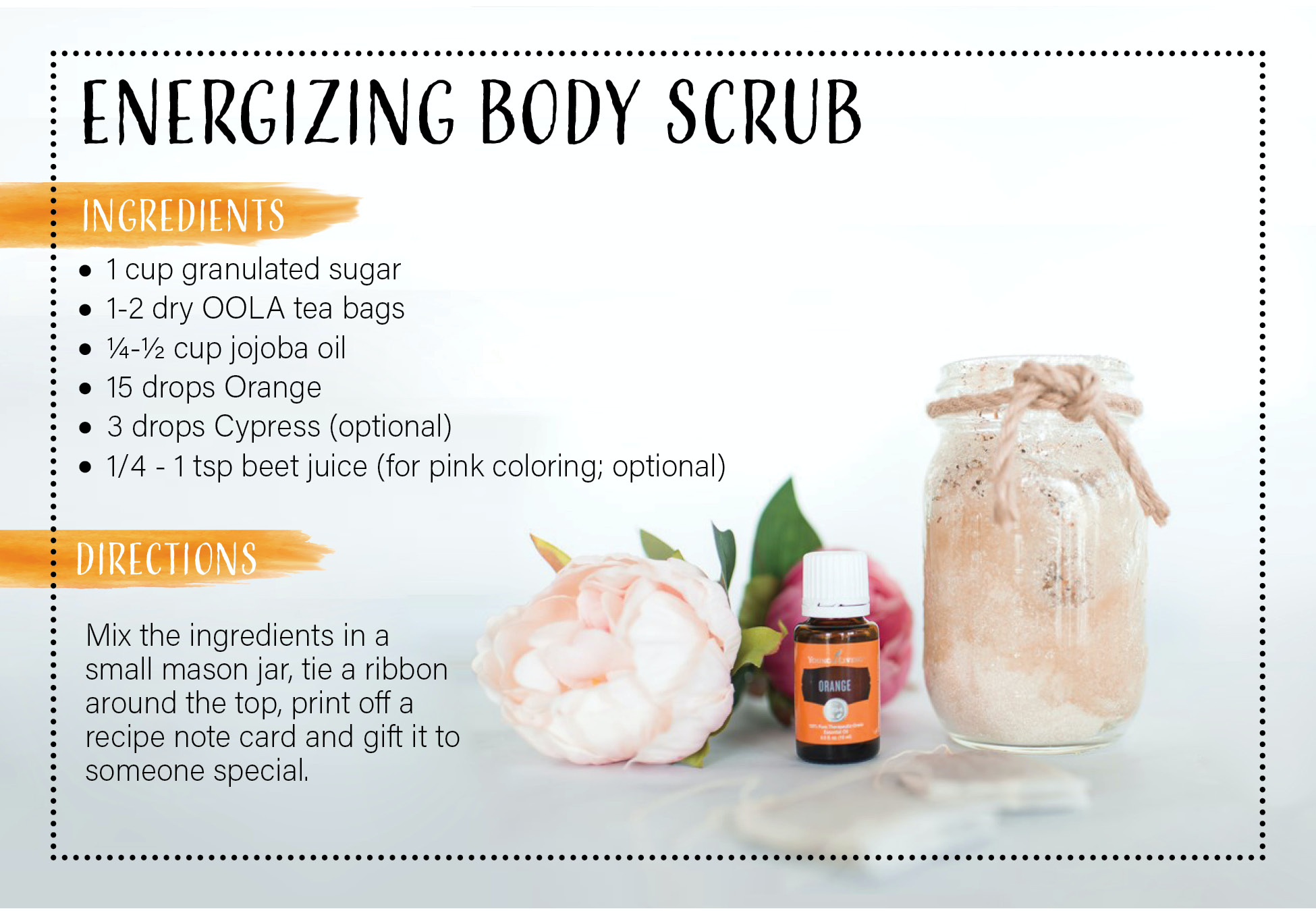 Star or flag this message so you can refer back to it all month long!
You'll hear all about…
Important Announcements

Monthly YL Promos

Upcoming Classes & Events

Featured Products

Oil of the Month
Important Announcements
2020 International Grand Convention
Wednesday, June 17–Saturday, June 20, 2020

From Corporate:
At Young Living, health is at the center of all we do - from keeping ourselves and our families healthy to sharing abundant health with the world. With this as our guiding principle, the safety and well-being of the attendees and employees at any Young Living event is and always will be our highest priority.
We have been closely monitoring the coronavirus (COVID-19) outbreak and reviewing all updates from the Center for Disease Control (CDC), the World Health Organization (WHO), and the U.S. Department of State. As we look to the coming weeks and months, taking to heart what global experts predict this virus will do and how it will spread, we feel it's our responsibility to our members, employees, and the general public to make a fundamental change to the format of our International Grand Convention this year.
For 2020, our biggest annual event will become 100% virtual, utilizing our Virtual International Grand Convention platform, which is already in place.
For only $75, one person per membership can register for the Virtual International Grand Convention to access convention content and place orders for new convention products before they're released to the general public!
(IGC registrations will be converted to a Virtual International Grand Convention registration. Any funds previously paid over the Virtual International Grand Convention price of $75 USD will be refunded.)
To register, click HERE.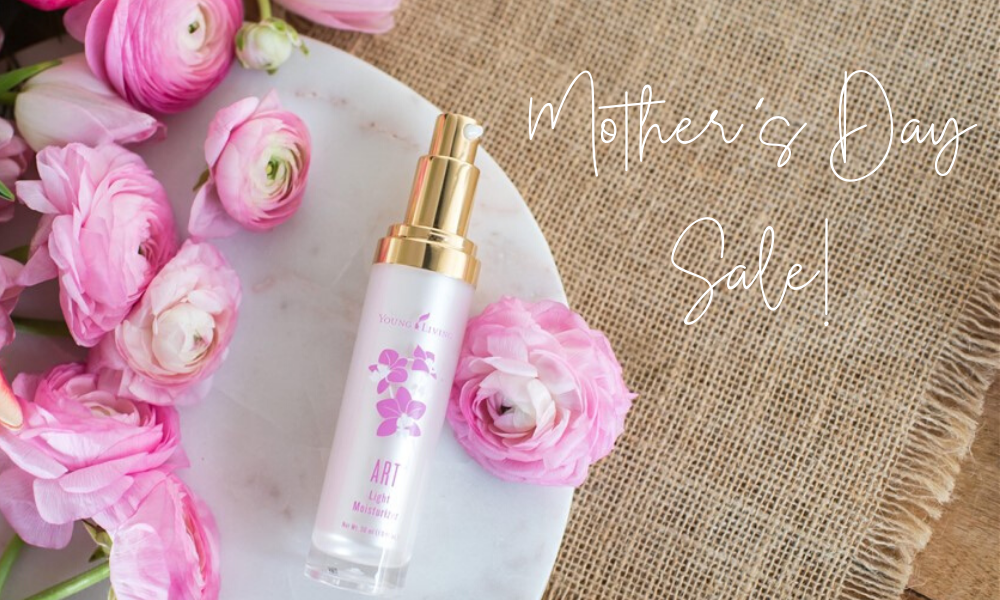 Treat your incredible mom, wife, sister, or another special woman in your life to what she really wants! Save 20% on the ART and Mirah Mother's Day Sets along with four favorite oils. For full details on what's included,

CLICK HERE.
Welcome Home Starter Kit
Are you ready to get started with Young Living?? Check out the Welcome Home Starter Kit that includes some of our favorite essential oils!! Also a great option for Mother's Day or a GRad gift!
Availability extended through May 31st or while supplies last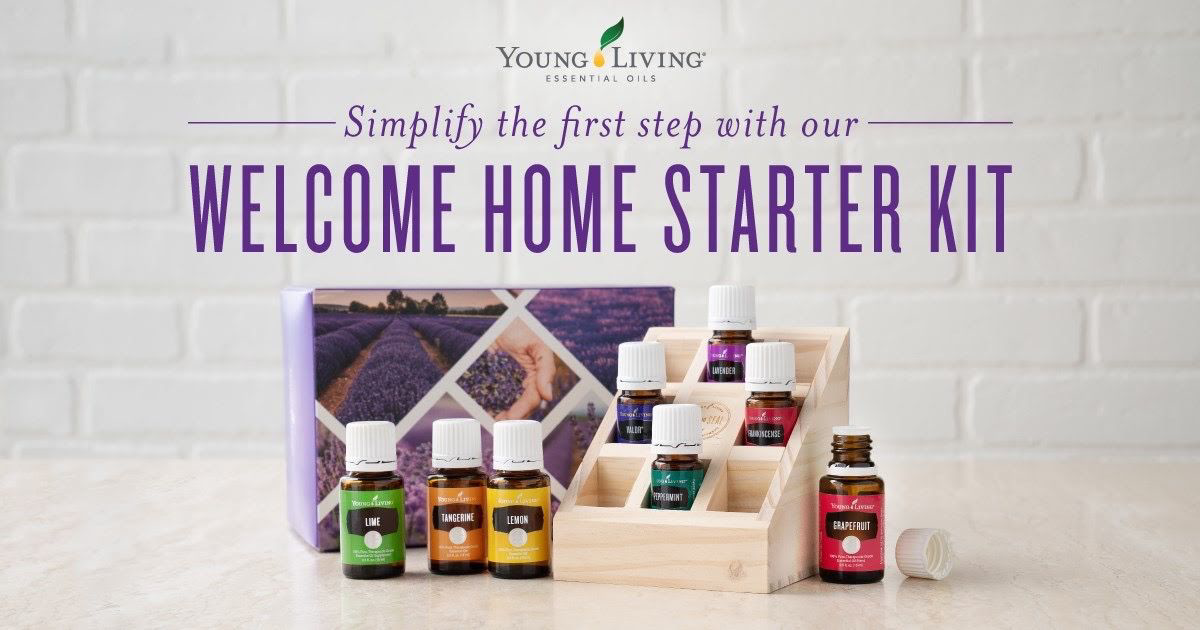 Ready to dive into essential oils but not sure where to start? Our advice: Begin with the basics! The Welcome Home Starter Kit has everything you need to infuse your home—and your life—with the power of pure essential oils. Packed with our most popular oils, this kit is a simple way to sample what life is like with Young Living!
Click
HERE
to learn more about the Welcome Home Starter Kit today!!
Already a Young Living Member?
Be sure to get in on our Monthly Giveaway
Each month I give away something fun when you share what you ordered on your Essential Rewards order that month!! You can share below after your order processes or if you are on FB you can post in our member group THANKFUL4OILS!
THIS MONTH I AM GIVING AWAY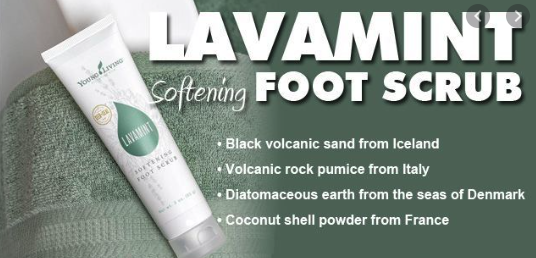 Monthly Young Living Promos

(they are different every month!!)
ORDER-BASED FREE PRODUCT
When your order hits one of these PV levels you will receive the corresponding products for FREE! Look at everything you get for free when you hit 300 PV!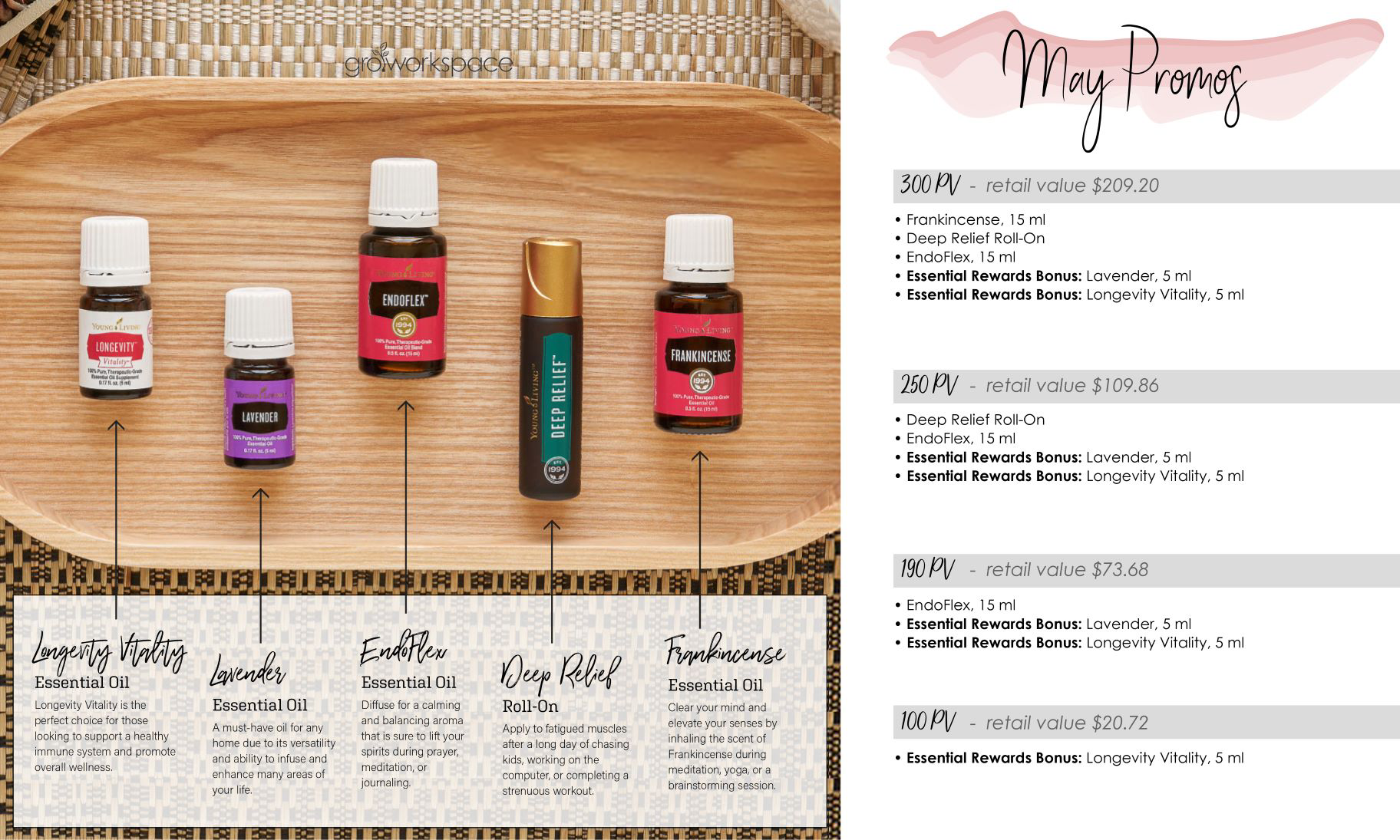 Who else is excited to get FREE Frankincense, Endoflex and, Deep Relief?!?
Don't get me wrong, I love my longevity and lavender too!!


LEVEL UP & DOUBLE UP BONUSES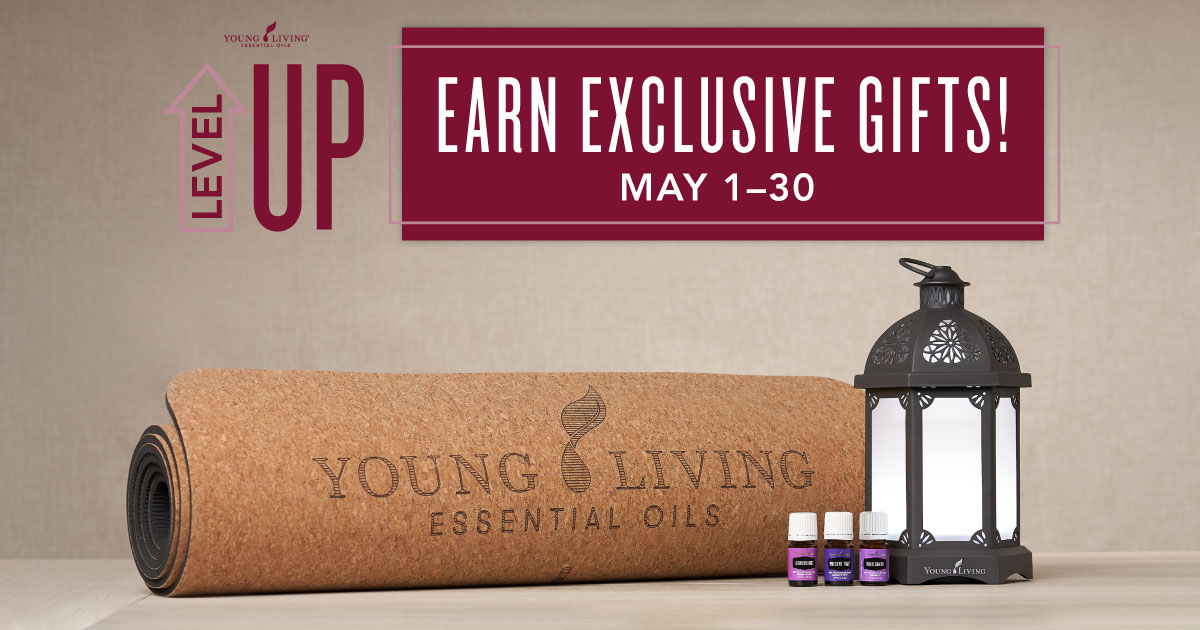 Level Up in May and earn an exclusive branded cork yoga mat featuring laser-etched alignment guides and a non-slip texture, so you can feel centered and secure during their meditative practice.


Double Up and you will also receive a Meditation bundle: Charcoal Lantern Diffuser (available only during May Level Up) plus 5 ml bottles of Present Time™, Grounding™, and Palo Santo. Get grounded—in style—when you pair one of these "find your focus" aromas with this chic diffuser.
To learn more about how to qualify, CLICK HERE.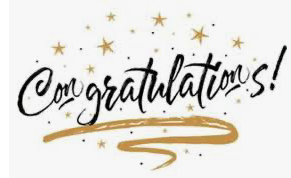 CONGRATULATIONS TO LAURA
FOR EARNING THE LEVEL UP BONUS IN APRIL!!!
We are all so proud of you!!!
Classes & Events
Online Classes (just click on class name)
Last month I taught a basic essential oil class. I covered the how, why &what of essential oils! This is a video class!!
AND IT IS NOT TO EARLY TO START THINING ABOUT THE DADS!!!
Do you have trouble finding the perfect gift for the men in your life?
This class is all about identifying the kind of men you are surrounded by and picking gifts to make
to make them feel loved and appreciated...
because even if they don't admit it, guys like to feel special too!
For Gift Ideas For Him: Click
HERE.
Upcoming In-Person Events:
Well as you know we are still in lockdown mode! But we will be planning something fun as soon as we can!!
Featured Products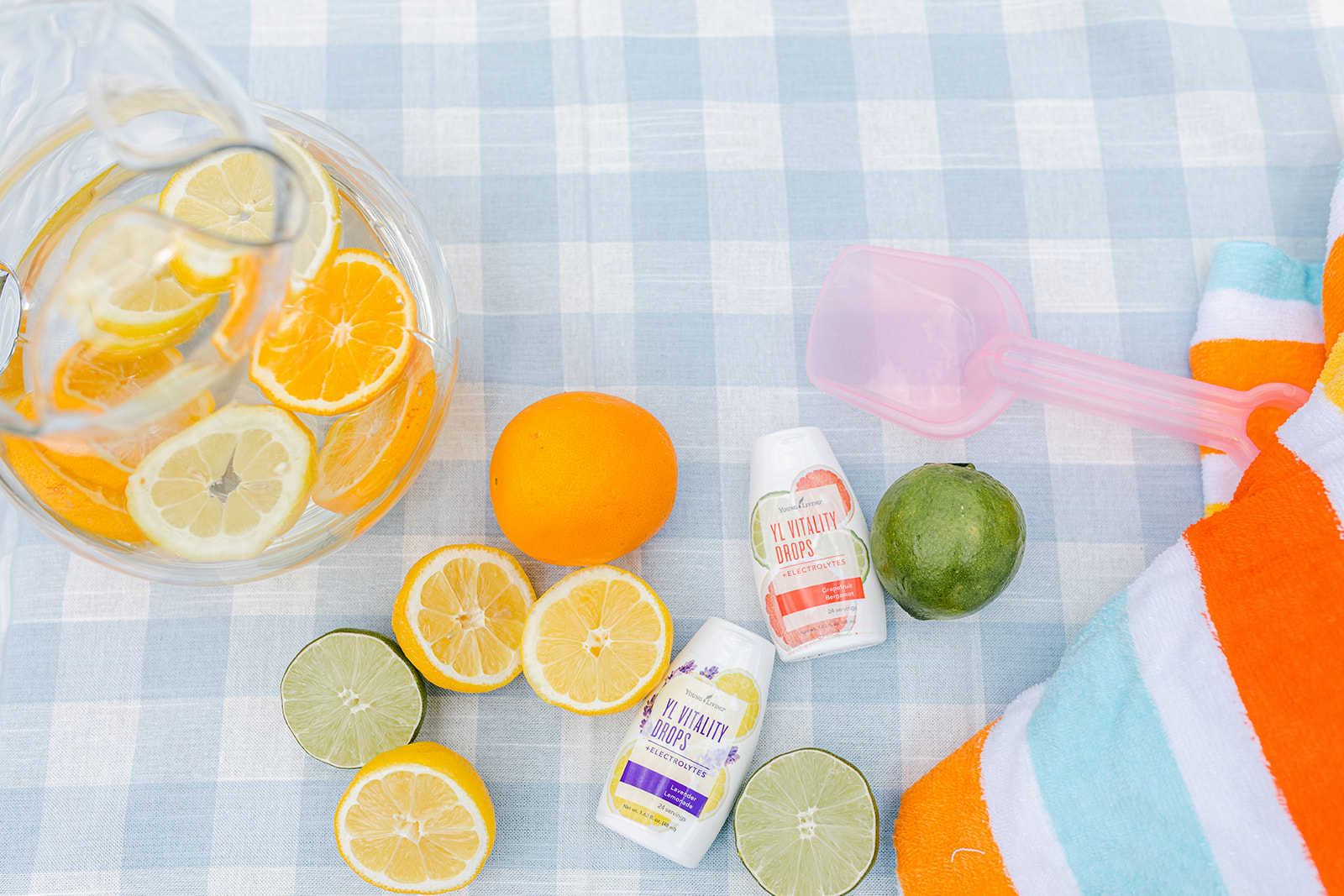 Lavender Lemonade and Grapefruit Bergamot Vitality Drops
These were released back in January at the New Year Kickoff event and they are so delicious!
YL Vitality Drops help you stay hydrated by replacing sugary drinks like soda or juice with water, without losing any of the flavor! Just add a small squirt to 8 ounces of cold water. If desired, add more drops according to taste preference.
Sweetened with Stevia

24 servings per bottle

Contains no artificial colors, flavors, sweeteners, or other ingredients

Contains naturally occurring electrolytes & minerals from the Great Salt Lake plus essential oils
Click HERE for more info or to order!
This product is a homogenous, emulsified solution so the essential oils contained in it will not compromise the integrity of the plastic container. Drink up!
Oil of the Month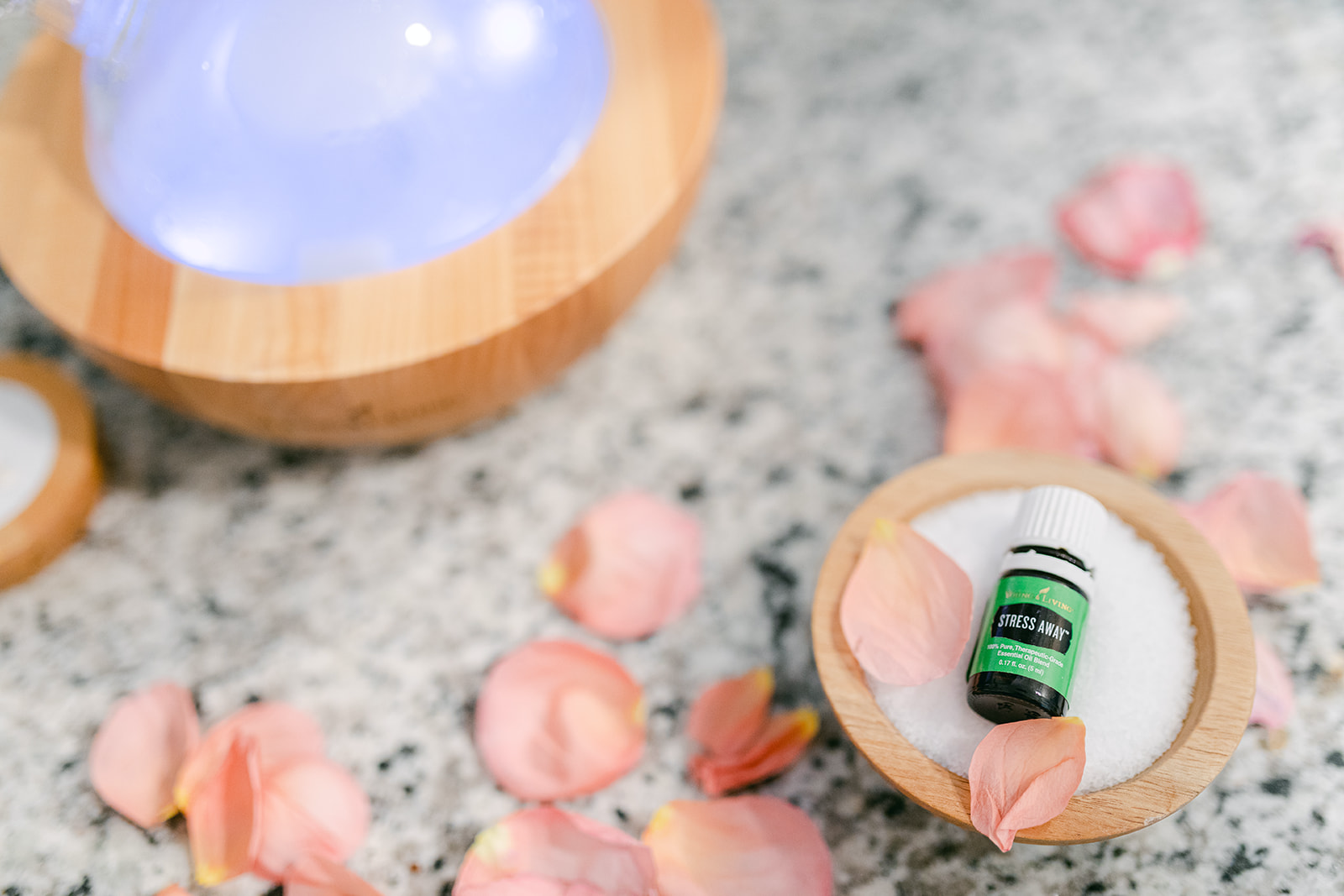 Stress Away
These last few months have undoubtedly been stressful. We have been crossing through uncharted territories and experiencing unfamiliar situations. We need to be supporting our emotions through all of it, and we can do that with our essential oils!
As you inhale essential oils, the tiny molecules enter the nasal cavity and pass by the olfactory bulb. Your olfactory bulb is a part of your limbic system and therefore your response to an aroma is going to be emotional before it can be rational.
Each essential oil has a unique chemical makeup. We can take advantage of that and use essential oils to improve our mood, feel calmer or more energized, or reach a deeper state of happiness. So grab that Stress Away and breathe it in! It's a blend of Copaiba, Lime, Cedarwood, Vanilla, Ocotea, and Lavender and does exactly what the name implies!
Click HERE to check it out!!
NOTE: STRESS AWAY COMES IN JUST ABOUT EVERY STARTER KIT!!!
Check out all the kit options
HERE


Are you feeling overwhelmed in life? not sleeping well?
GET MY SERIES:
SLEEP, STRESS & SADNESS
,

and discover some tips, tricks & oils that can help you stay more calm, relaxed, and grounded during your daily grind and support a better night's sleep and a happier morning.
I hope everyone is staying healthy and safe!